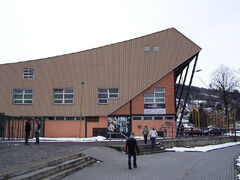 Zimní stadion Na Lapači is an indoor arena located in Vsetín, Czech Republic. The capacity of the arena is 5,400 people and was built in 1966. It is currently home to the VHK Vsetín ice hockey team.
References
Edit
Ad blocker interference detected!
Wikia is a free-to-use site that makes money from advertising. We have a modified experience for viewers using ad blockers

Wikia is not accessible if you've made further modifications. Remove the custom ad blocker rule(s) and the page will load as expected.