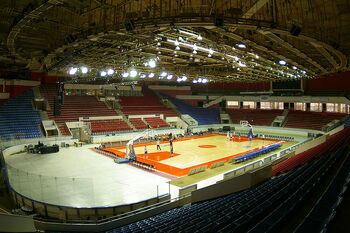 Yubileyny Sports Palace (Russian: Спортивный комплекс "Юбилейный"), also translated as Yubileiny (Jubilee) Palace of Sports, is an indoor arena and concert complex located in St. Petersburg, Russia. It houses 7,012 seats. The complex was completed in 1967 as a present from the Federation of Trade Unions to the city on the 50th anniversary of Soviet power.
The Palace hosts a wide variety of activities, including athletic training and competitions, conventions, festivals, and musical concerts.
External links
Edit
Ad blocker interference detected!
Wikia is a free-to-use site that makes money from advertising. We have a modified experience for viewers using ad blockers

Wikia is not accessible if you've made further modifications. Remove the custom ad blocker rule(s) and the page will load as expected.