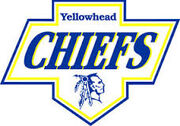 The Yellowhead Chiefs are a Canadian Midget AAA hockey team from the Yellowhead region of Manitoba, and based out of Shoal Lake. They are members of the Manitoba AAA Midget Hockey League (MMHL) and Hockey Manitoba.
Season-by-Season Record
Edit
Note: click on season for team rosters or on league for direct link to that season.