Ad blocker interference detected!
Wikia is a free-to-use site that makes money from advertising. We have a modified experience for viewers using ad blockers

Wikia is not accessible if you've made further modifications. Remove the custom ad blocker rule(s) and the page will load as expected.
The Winnipeg Winnipegs were both a senior and junior team in Winnipeg, Manitoba.
Senior TeamEdit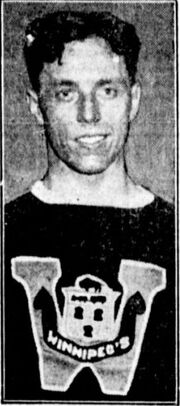 The team was founded on November 14, 1890.
The Winnipegs won the Manitoba Senior Championship in 1906-07, 1912-13, 1926-27, 1930-31, and 1931-32,
They won the Allan Cup in 1912-13 and 1930-31.
They won the Olympics in 1932 as the team representing Canada.
Season-by-Season Results
Edit
Manitoba Senior Hockey (1891-1902)Edit
Season
Games
Won
Lost
Tied
Points
Goals
for
Goals
against
Standing
Playoffs
1891-92
7
4
2
1
9
32
13
2nd
No Playoffs
1893-94
5
2
3
0
4
23
26
2nd
No Playoffs
1894-95
3
0
3
0
0
15
22
2nd
No Playoffs
1895-96
3
0
3
0
0
15
37
2nd
No Playoffs
1896-97
5
1
4
0
2
15
21
2nd
No Playoffs
1897-98
5
1
4
0
2
12
29
2nd
No Playoffs
1898-99
4
0
4
0
0
5
31
2nd
No Playoffs
1899-00
4
0
4
0
0
12
29
2nd
No Playoffs
1900-01
4
0
4
0
0
11
16
2nd
No Playoffs
1901-02
4
0
4
0
0
7
20
2nd
No Playoffs
Manitoba Senior Hockey (1906-10)Edit
Season
Games
Won
Lost
Tied
Points
Goals
for
Goals
against
Standing
Playoffs
1905-06
8
7
1
0
14
51
24
Tied 1st
Lost Final
1906-07
4
3
1
0
6
28
17
1st
No Playoffs
1909-10
6
0
6
0
0
18
57
3rd
No Playoffs
Manitoba Hockey League (1912-16)Edit
Season
Games
Won
Lost
Tied
Points
Goals
for
Goals
against
Standing
Playoffs
1912-13
8
7
1
0
14
63
46
1st
Won Allan Cup
1913-14
8
2
6
0
4
32
47
3rd
Out of Playoffs
1914-15
8
1
7
0
2
44
78
3rd
Out of Playoffs
1915-16
8
0
8
0
0
22
62
3rd B Division
Out of Playoffs
Manitoba Senior Hockey (1919-27)Edit
Season
Games
Won
Lost
Tied
Points
Goals
for
Goals
against
Standing
Playoffs
1919-20
8
6
2
0
12
51
37
1st
Lost Manitoba Final
1920-21
12
3
9
0
6
54
80
3rd
Out of Playoffs
1921-22
12
6
6
0
12
78
61
2nd
Lost League Final
1926-27
8
7
1
0
14
-
-
1st
Won Manitoba, Lost West Quarter Final
Manitoba Senior Hockey (1929-33)Edit
Season
Games
Won
Lost
Tied
Points
Goals
for
Goals
against
Standing
Playoffs
1929-30
12
8
4
0
16
-
-
1st
Lost Manitoba Final
1930-31
12
6
6
0
12
22
24
Tied 1st
Won Manitoba, West
Won Allan Cup
1931-32
12
7
4
1
15
14
9
1st
Won Manitoba
Won Olympics
1932-33
16
9
7
0
16
28
22
Tied 2nd
Lost Semi Final
Thunder Bay Senior Hockey (1935-36)Edit
Season
Games
Won
Lost
Tied
Points
Goals
for
Goals
against
Standing
Playoffs
1935-36
12
7
3
2
16
-
-
1st
Lost Thunder Bay Final
Junior TeamEdit
Season-by-Season Results
Edit