Willmar WarHawks

City:
Willmar, Minnesota
League:
NA3HL
Division:
West
Founded:
2007
Home Arena:
Willmar Civic Center
Colors:
Red, Black, Gray, and White


    

    

    

    

Owner(s):
Blizzard Hockey, LLC.
General Manager:
Matt Johnson
Head Coach:
Chris Blaisuis
Franchise history
2007–2016:
Minnesota Flying Aces
2016–present:
Willmar WarHawks
The Willmar WarHawks are a Tier III ice hockey team playing in the North American 3 Hockey League (NA3HL). The team plays their home games at the Willmar Civic Center located in Willmar, Minnesota. NA3HL teams play a 48-game regular season, in addition to showcase and post-season games.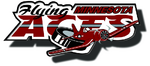 Established as the Minnesota Flying Aces, the franchise's first season was in 2007–08 as members of the Minnesota Junior Hockey League (MnJHL). The Flying Aces were based out Little Falls, Minnesota and played their home games at Exchange Arena. Following the 2010–11 season, the franchise moved to the North American 3 Hockey League along with in-state rival,the Granite City Lumberjacks.
On May 24, 2016, Flying Aces owners John and Debbie Holthaus sold the franchise to Blizzard Hockey, LLC. Blizzard Hockey also owns the North American Hockey League's Brookings Blizzard and the NA3HL's Alexandria Blizzard. The new owners then relocated the franchise to Willmar, Minnesota and renamed the team Willmar WarHawks.[1][2]
Season-by-season records
Edit
Season
GP
W
L
OL
SL
Pts
GF
GA
Regular Season Finish
Playoffs
Minnesota Junior Hockey League
2007–08
48
14
31
1
2
31
160
214
7th of 9, MnJHL
2008–09
48
16
30
0
2
34
153
252
6th of 9, MnJHL
2009–10
50
15
32
0
3
33
181
251
6th of 9, MnJHL
Lost 1st Round, 0-2 vs Rochester Ice Hawks
2010–11
45
26
15
0
4
56
180
164
3rd of 8, MnJHL
Lost 1st Round, 1-2 vs Hudson Crusaders
North American 3 Hockey League
2011–12
48
21
24
2
1
45
176
201
4th of 4, West Div.
12th of 16, NA3HL
Lost Div. Semifinals, 0-2 vs Granite City Lumberjacks
2012–13
48
20
26
1
1
42
137
175
4th of 6, West Div.
11th of 17, NA3HL
Lost Div. Semifinals, 0-3 vs North Iowa Bulls
2013–14
48
9
36
3
—
21
111
275
5th of 6, West Div.
19th of 21, NA3HL
Did not qualify
2014–15
47
7
37
3
—
17
109
273
6th of 6, West Div.
30th of 31, NA3HL
Did not qualify
2015–16
47
11
34
2
—
24
124
248
5th of 5, West Div.
26th of 34, NA3HL
Did not qualify
Wilmar WarHawks
2016-17
47
22
22
2
1
47
148
175
5th of 5, West Div.
Did not qualify
2017-18
47
22
21
4
0
48
159
182
4th of 5, West Div.
Lost DSF 0-2 Granite City Lumberjacks
References
Edit
External links
Edit