Ad blocker interference detected!
Wikia is a free-to-use site that makes money from advertising. We have a modified experience for viewers using ad blockers

Wikia is not accessible if you've made further modifications. Remove the custom ad blocker rule(s) and the page will load as expected.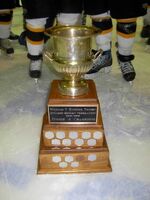 The William T. Ruddock Trophy is awarded to the Ontario Hockey Federation Junior "A" branch champion. The trophy was probably first awarded in 1998 as that is the first year the Ontario Hockey Association does not list a Northern Ontario Hockey Association team competing for the Frank L. Buckland Trophy. Because of the nature of the championship and the layout of the Canadian Junior Hockey League playdowns, the Ruddock Trophy is always awarded at the Dudley Hewitt Cup, since 2003 to the winner of the Round Robin game between the OHA and NOHA champions.
1994 Caledon Canadians
1995 Brampton Capitals
1996 Newmarket 87's
1998 Milton Merchants defeated Rayside-Balfour Sabrecats 4-games-to-2 @ 1998 Dudley Hewitt Cup
1999 Bramalea Blues defeated Rayside-Balfour Sabrecats 4-games-to-none @ 1999 Dudley Hewitt Cup
2000 Rayside-Balfour Sabrecats defeated Brampton Capitals 4-games-to-1 @ 2000 Dudley Hewitt Cup
2001 Thornhill Rattlers defeated Rayside-Balfour Sabrecats 4-games-to-3 @ 2001 Dudley Hewitt Cup
2002 Rayside-Balfour Sabrecats win by default as OPJHL refuses to send champions to 2002 Dudley Hewitt Cup
2003 North Bay Skyhawks defeated Wellington Dukes 2-1 in 2003 Dudley Hewitt Cup round robin
2004 Aurora Tigers defeated North Bay Skyhawks 5-1 in 2004 Dudley Hewitt Cup round robin
2005 St. Michael's Buzzers defeated North Bay Skyhawks 4-3 4OT in 2005 Dudley Hewitt Cup round robin
2006 Sudbury Jr. Wolves defeated St. Michael's Buzzers 5-2 in 2006 Dudley Hewitt Cup round robin
2007 Aurora Tigers defeated Soo Indians 4-2 in 2007 Dudley Hewitt Cup round robin
2008 Oakville Blades defeated Sudbury Jr. Wolves 5-3 in 2008 Dudley Hewitt Cup round robin
2009 Kingston Voyageurs defeated Soo Thunderbirds 3-0 in 2009 Dudley Hewitt Cup round robin
2010 Oakville Blades defeated Abitibi Eskimos 6-0 in 2010 Dudley Hewitt Cup round robin
2011 Wellington Dukes defeated Soo Eagles 7-1 in 2011 Dudley Hewitt Cup round robin
2012 Soo Thunderbirds defeated Stouffville Spirit by proceeding further @ 2012 Dudley Hewitt Cup
2013 St. Michael's Buzzers defeated North Bay Trappers 4-2 @ 2013 Dudley Hewitt Cup
2014 Toronto Lakeshore Patriots defeated Kirkland Lake Gold Miners 4-1 @ 2014 Dudley Hewitt Cup
2015 Toronto Patriots defeated Soo Thunderbirds 4-3 (SO) @ 2015 Dudley Hewitt Cup