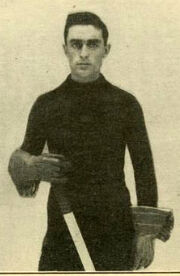 William J. "Peg" Duval (August 3, 1877-?) was a Canadian professional ice hockey defenceman who played for the Ottawa Hockey Club and the Pittsburgh Victorias in the late 1890s and early 1900s. He was a member of the Canadian champion 1901 Ottawa team and captain of the Ottawa team for the 1902 season. He was one of the first professional players in ice hockey.
Playing career
Edit
Born in Ottawa, Canada, Duval played intermediate hockey for the Ottawa Aberdeens and Ottawa Atlantic Railway teams before joining the Ottawa Hockey Club in the 1899–1900 season. He played two further seasons for Ottawa, and was named captain prior to the 1902 season. He then turned professional with the Pittsburgh Victorias of the Western Pennsylvania Hockey League (WPHL) in 1902–03, before joining the Pittsburgh Pros of the International Professional Hockey League for 1904–05.
Ad blocker interference detected!
Wikia is a free-to-use site that makes money from advertising. We have a modified experience for viewers using ad blockers

Wikia is not accessible if you've made further modifications. Remove the custom ad blocker rule(s) and the page will load as expected.