The Wilfrid Laurier Golden Hawks women's hockey team represented Wilfrid Laurier University in Canadian Interuniversity Sport. The Golden Hawks play their home games at Sunlife Financial Arena and are a a member of the Ontario University Athletics conference.  The program started in 1994.
In 2009, the Golden Hawks captured the 2009 OUA title and qualified for the Canadian Interuniversity Sport women's ice hockey championship game. The Golden Hawks were defeated by the McGill Martlets by a 3-1 mark. For the 2009-10 season, Liz Knox was named the CIS Most Valuable Player. Knox enjoyed a record-breaking campaign in which she led the CIS in every major goaltending category. She won 24 of 25 starts during the regular season as the Golden Hawks compiled a 26-0-1 record. She ranked first in CIS in wins (24), shutouts (11), goals against average (0.89) and save percentage (.960). In addition, her 11 shutouts set an OUA single-season record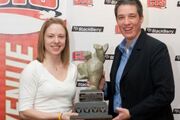 During the 2010-11 season, freshman Laura Brooker finished fourth in the OUA in scoring with 19 goals and eight assists for 27 points. Of note, Brooke was ranked second in the nation in goals scored, tied with Hayley Wickenheiser of the Calgary Dinos women's ice hockey team. On March 13, 2011, the Golden Hawks qualified for the Bronze Medal game of the CIS National Championship. The squad was defeated by the Queen's Golden Gaels women's ice hockey team by a 1-0 score.[1] Of note, Liz Knox earned the first shutout of the 2011 CIS National Championship tournament. She shutout the Manitoba Bisons by a 4-0 tally in the second game of the tournament.[2]
Year by year
Edit
OUA Women's
Edit
| Season | League | GP | W | L | T | OL | GF | GA | Pts | Finish | Tournament | Nationals |
| --- | --- | --- | --- | --- | --- | --- | --- | --- | --- | --- | --- | --- |
| 1995-96 | OWIAA | | | | | | | | | | | No Tournament |
| 1996-97 | OWIAA | | | | | | | | | | | No Tournament |
| 1997-98 | OUA-Women | 15 | 6 | 6 | 3 | - | 31 | 25 | 15 | 3rd | Bronze Medal | N/A |
| 1998-99 | OUA-Women | 20 | 14 | 6 | 0 | - | 73 | 38 | 28 | 2nd | Won Tournament | 4th place |
| 1999-00 | OUA-Women | 20 | 12 | 6 | 2 | - | 71 | 50 | 26 | 3rd | Bronze Medal | N/A |
| 2000-01 | OUA-Women | 22 | 19 | 3 | 0 | - | 108 | 48 | 38 | 1st West | Lost Final | N/A |
| 2001-02 | OUA-Women | 20 | 19 | 0 | 1 | - | 89 | 18 | 39 | 1st West | Won Tournament | Silver Medal |
| 2002-03 | OUA-Women | 22 | 16 | 2 | 4 | - | 90 | 36 | 36 | 1st West | Lost Final | N/A |
| 2003-04 | OUA-Women | 22 | 12 | 6 | 3 | 1 | | | 28 | 2nd West | Won Tournament | 5th place |
| 2004-05 | OUA-Women | 22 | 17 | 2 | 2 | 1 | 62 | 18 | 37 | 1st West | Won Tournament | National Champions |
| 2005-06 | OUA-Women | 24 | 20 | 3 | 1 | 0 | | | 41 | 1st | Won Tournament | Silver Medal |
| 2006-07 | OUA-Women | 24 | 19 | 2 | 3 | 0 | | | 41 | 1st | Won Tournament | 4th place |
| Season | League | GP | W | OW | L | OL | GF | GA | Pts | Finish | Tournament | Nationals |
| 2007-08 | OUA-Women | 27 | 23 | - | 2 | 0 | 97 | 24 | 48 | 1st | Won Tournament | Silver Medal |
| 2008-09 | OUA-Women | 27 | 26 | - | 1 | 0 | 108 | 21 | 52 | 1st | Won Tournament | Silver Medal |
| 2009-10 | OUA-Women | 27 | 24 | 2 | 0 | 1 | 98 | 23 | 77 | 1st | Won Tournament | Bronze Medal |
| 2010-11 | OUA-Women | 27 | 23 | 1 | 2 | 1 | 103 | 30 | 49 | 1st | Lost Semifinals | 4th place |
| 2011-12 | OUA-Women | 26 | 25 | 0 | 0 | 1 | 127 | 39 | 51 | 1st | Won Tournament | 4th place |
| 2012-13 | OUA-Women | 27 | 17 | 4 | 2 | 3 | 99 | 46 | 45 | 2nd | Lost Semifinals | N/A |
| 2013-14 | OUA-Women | 24 | 16 | 2 | 3 | 3 | 85 | 46 | 39 | 2nd | Won Tournament | 4th place |
| 2014-15 | OUA-Women | 24 | 13 | - | 7 | 4 | 73 | 43 | 52 | 6th | Lost Semifinals | N/A |
| 2015-16 | OUA-Women | 24 | 10 | 3 | 9 | 2 | 45 | 50 | 38 | 7th | Lost Semifinals | N/A |
| 2016-17 | OUA-Women | 24 | 2 | 1 | 17 | 4 | 28 | 75 | 12 | 12th | Did not qualify | N/A |
| 2017-18 | OUA-Women | 24 | 2 | 3 | 16 | 3 | 27 | 60 | 15 | 12th | Did not qualify | N/A |
Exhibition
Edit
| | | | |
| --- | --- | --- | --- |
| Date | Opponent | Score | Location |
| 9/26/2008 | Ohio State[3] | 2-1 | Columbus, Ohio |
| 9/28/2008 | Niagara University Purple Eagles | 7-3 | Niagara University, Lewiston, New York |
| 10/11/2008 | Team Ontario | 1-1 | Sunlife Financial Arena, Waterloo Recreation Complex |
| 10/12/2008 | Team Ontario | 4-3 | Sunlife Financial Arena, Waterloo Recreation Complex |
| 12/28/2008 | Blue Water Jrs. | 5-0 | Sunlife Financial Arena, Waterloo Recreation Complex |
| 9/24/2009 | Toronto Jr. Aeros | Sunlife Financial Arena | Win, 2-0 |
| 9/26/2009 | Ohio State | Columbus, Ohio | Tie, 1-1 (Ohio State scores in shootout)[4] |
| 9/27/2009 | Robert Morris | Pittsburgh, Pennsylvania | RMU, 4-0[5] |
| 10/4/2009 | Whitby Junior Wolves | Sunlife Financial Arena | Win, 8-1 |
| 10/9/2009 | Chinese National Women's Team | Sunlife Financial Arena | Tie, 2-2[6] |
| 9/25/2010 | Mercyhurst Lakers | Mercyhurst Ice Center | Loss, 7-0 |
| 10/2/2010 | Ohio State | OSU Ice Rink | Loss, 2-0 |
| 12/30/2010 | London Devilettes PWHL | CIF Arena | Win, 5-1[7] |
International
Edit
| | | |
| --- | --- | --- |
| Player | Event | Result |
| Andrea Ironside | 2009 Winter Universiade | Gold |
| Andrea Ironside | 2011 Winter Universiade | Gold[8] |
| Liz Knox | 2011 Winter Universiade | Gold |
| Andrea Martin | 2011 Winter Universiade | Gold |
| Candice Styles | 2011 Winter Universiade | Gold |
Awards and honors
Edit
Andrea Ironside, 2008/2009 Women's Hockey CIS Championship Tournament All-Star
Andrea Ironside, Monday, November 24, 2008, Laurier Athlete of the Week [9]
CIS honors
Edit
Andrea Ironside, 2010 CIS Tournament All-Star
Abygail Laking, Finalist, 2010 CIS Rookie of the Year
Liz Knox, 2010 Brodrick Trophy, CIS MVP
Liz Knox, 2010 All-CIS First Team
Candice Styles, 2010 CIS All-Rooke Team
All-Canadian honors
Edit
Defence - Andrea Bevan, 2009 First Team
Forward - Andrea Ironside, 2009 Second Team[11]
Laura Brooker, 2011 CIS all-rookie team[12]
Alannah Wakefield, 2011 CIS all-rookie team
OUA honors
Edit
Laura Brooker, 2011 OUA Rookie of the Year
Andrea Ironside, 2008/2009 Women's Hockey OUA First Team All-Star
References
Edit