"Mustangs" is the name of the sports teams of the University of Western Ontario, located in London, Ontario. They are members of Ontario University Athletics (OUA) and U Sports (formerly known as CIS).
The Western Ontario Mustangs hockey team started playing in various Senior, Intermediate, and Junior competitions with Wikia links going back to 1914-15. They also competed in the Intermediate Intercollegiate Series most seasons from 1925-26 to 1938-39.
The team re-started in 1964-65 when they entered the QOAA where they remained until the conference ended in 1970-71. In 1971-72 they joined the Ontario Universities Athletic Association (OUAA) once the Ontario and Quebec conferences were re-organized along provincial lines.
Season-by-Season Records TablesEdit
List of Seasons 1914-15 to 1938-39
Edit
Sources:
QOAA 1964-65 to 1970-71Edit
Click on the links in the "Year/Comp." column to go to the page for that season.
Notes:
1964-65 started one division format.
1968-69 returned to the two division format.
OUAA/OUA years with ties 1971-72 to 2002-03Edit
OUA years with ties and OT losses 2003-04 to 2006-07Edit
OUA years without ties 2007-08 to presentEdit
Notes:
1971-72 started two division format: East and West.
1975-76 started three division format: East, Central, and West.
1979-80 started one division format.
1987-88 QUAA teams joined the OUAA and it returned to a three division format.
1989-90 returned to the two division format.
1993-94 started a four division format: Far East, Mid East, Mid West, and Far West.
1997-98 OUAA became OUA.
2009-10 returned to the two division format.
C means Central division
FW means Far West division
W means West division
Commemorations
Edit
University Cups
Edit
Championships
Edit
IIS - Ontario - 1933
Queen's Cup - OUAA: 1995
Queen's Cup - OUA: 2005, 2009
University Cup: 2002
Mustangs who played in the NHLEdit
Alternate Logos
Edit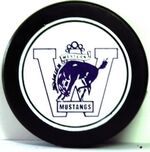 West DivisionEdit
East DivisionEdit