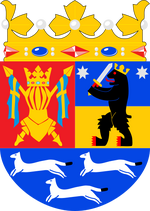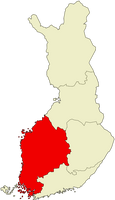 The Province of Western Finland is a province of Finland. It borders the provinces of Oulu, Eastern Finland and Southern Finland. It also borders the Gulf of Bothnia towards Åland.
The Western Finland State Provincial Office is a joint regional administrative authority of seven ministries. The State Provincial Office serves at five localities; the main office is in Turku, regional service offices are located in Jyväskylä, Tampere and Vaasa, and finally there is an office in Pori.
Ad blocker interference detected!
Wikia is a free-to-use site that makes money from advertising. We have a modified experience for viewers using ad blockers

Wikia is not accessible if you've made further modifications. Remove the custom ad blocker rule(s) and the page will load as expected.