Ad blocker interference detected!
Wikia is a free-to-use site that makes money from advertising. We have a modified experience for viewers using ad blockers

Wikia is not accessible if you've made further modifications. Remove the custom ad blocker rule(s) and the page will load as expected.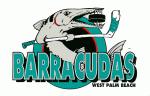 The West Palm Beach Barracudas was a professional ice hockey team based in West Palm Beach, Florida. Initially known as the West Palm Beach Blaze, the team played in the Sunshine Hockey League from 1992 to 1995 and in the Southern Hockey League in 1995-96.
The team won all three SuHL championships.
Achievements
Edit
Sunshine Cup winners (1993, 1994, 1995)
Statistics by season
Edit
Season  League  GP  W  L  T OTL PTS  GF  GA  PIM Playoffs
1992-93 SuHL    45 38  6  0   1  77 275 166 1272 League champions
1993-94 SuHL    54 37 14  0   3  77 282 205 1433 League champions
1994-95 SuHL    57 38 15  0   4  80 322 244 1852 W Daytona 2-0; W Jacksonville 3-0. 
1995-96 SHL     60 26 32  2   -  54 251 319 2084 Out of playoffs

Head coaches
Edit
Notable players
Edit
Roman Hubalek
Rob Celotto
Scott Garrow
Todd Bojcun