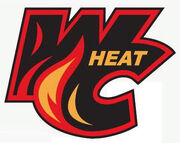 The West Coast Heat are a Senior AAA hockey team from Vancouver, British Columbia.  The team was established in 2016.  The team is based out of the Bill Copeland Sports Centre on the campus of Simon Fraser University.
The team is playing an independent schedule for the 2016-17 season.  The team's schedule for its first season will include 2 games each against the Simon Fraser Clan, Powell River Regals, and the Whitehorse Huskies.
They are attempting to qualify for the 2017 Allan Cup.  To qualify for the Allan Cup the team will have to play the only other senior AAA registered team in the province, the Powell River Regals for the best-of-five Savage Cup and if they win that series they play the Alberta Senior Champions for the Pacific Region's spot in the 2017 Allan Cup being held in Bouctouche, New Brunswick
Ad blocker interference detected!
Wikia is a free-to-use site that makes money from advertising. We have a modified experience for viewers using ad blockers

Wikia is not accessible if you've made further modifications. Remove the custom ad blocker rule(s) and the page will load as expected.