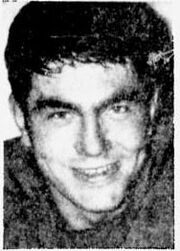 Wenedell Bennett (Born March 24, 1950, in Loon Lake, Saskatchewan) is a retired hockey right winger.
He was drafted 39th overall by the New York Rangers in the 1970 NHL Amateur Draft.
In 1974-75 Bennett played 67 games for the Phoenix Roadrunners in the World Hockey Association. He scored 4 goals and 15 assists.
Ad blocker interference detected!
Wikia is a free-to-use site that makes money from advertising. We have a modified experience for viewers using ad blockers

Wikia is not accessible if you've made further modifications. Remove the custom ad blocker rule(s) and the page will load as expected.