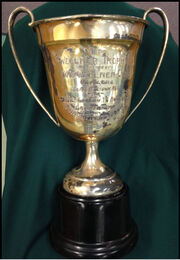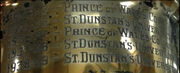 The Wellner Trophy was donated in 1934 for the winner of a hockey competition between Prince Edward Island's two post-secondary institutions - St. Dunstan's University and Prince of Wales College.
The first team to win three competitions would get to keep the trophy.
St. Dunstan's finally won for the third time in 1939.
Champions
Edit

Photos courtesy Simon Lloyd, University Archivist, University of Prince Edward Island.
AUS Team Sites
Edit
Current Teams
Edit
Formerly Participating Universities
Edit
Formerly Participating Universities - no longer AUS members
Edit
Senior links:
National links:
Atlantic links:
Ad blocker interference detected!
Wikia is a free-to-use site that makes money from advertising. We have a modified experience for viewers using ad blockers

Wikia is not accessible if you've made further modifications. Remove the custom ad blocker rule(s) and the page will load as expected.