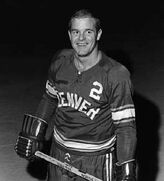 Wayne Smith (born February 12, 1943 in Kamsack, Saskatchewan) was a professional ice hockey defenceman. He played in two games for the Chicago Black Hawks in the National Hockey League in 1966-67, scoring a goal and an assist.
He attended the University of Denver from 1962 to 1966.
1961-62 Saskatchewan Junior Hockey League First All-Star
1963-64 WCHA Second All-Star
1964 NCAA Tournament All-Star
1964-65 WCHA First All-Star
1964-65 NCAA West First All-Star
1965-66 WCHA First All-Star
1965-66 NCAA West First All-Star
1966 NCAA Tournament All-Star
External links
Edit
Ad blocker interference detected!
Wikia is a free-to-use site that makes money from advertising. We have a modified experience for viewers using ad blockers

Wikia is not accessible if you've made further modifications. Remove the custom ad blocker rule(s) and the page will load as expected.