Honoured Member of the Manitoba Hockey Hall of Fame - Builders Category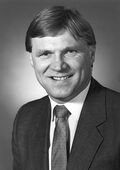 Died: February 11, 2013
Hometown: Winnipeg, Manitoba
Position: Center / Left Wing, Coach, & General Manager
Selected by Detroit Red Wings 4th round (#45) in 1969 NHL Amateur Draft
The late Wayne Chernecki would likely have received consideration from the Manitoba Hockey Hall of Fame as a player or a builder. A star from playground through junior and a Detroit Red Wing draft choice, he played 263 games for the AHL Springfield Kings and Providence Reds. He then returned to Winnipeg and put to use the commerce degree he had completed while playing for the Winnipeg junior Jets. As a coach he won the Western Canadian AAA bantam championship with the Winnipeg Hawks in 1992 and two league championships with St. James Canadians of the MJHL in 1996 and 1997.
Career Statistics
Edit
Awards & Achievements
Edit
External links
Edit
Ad blocker interference detected!
Wikia is a free-to-use site that makes money from advertising. We have a modified experience for viewers using ad blockers

Wikia is not accessible if you've made further modifications. Remove the custom ad blocker rule(s) and the page will load as expected.