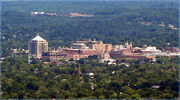 Wausau is a city of over 38,000 people in central Wisconsin, United States.
Riverview School Rink
Marathon Park Ice Arenas
Thom Field Rink
Grant School Rin
John Marshall School Rink
External Links
Edit
Ad blocker interference detected!
Wikia is a free-to-use site that makes money from advertising. We have a modified experience for viewers using ad blockers

Wikia is not accessible if you've made further modifications. Remove the custom ad blocker rule(s) and the page will load as expected.