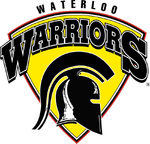 "Warriors" is the name of the sports teams of the University of Waterloo, located in Waterloo, Ontario. They are members of Ontario University Athletics (OUA) and Canadian Interuniversity Sport (CIS).
The Waterloo Warriors hockey team started in the Quebec-Ontario Athletic Association (QOAA) in 1961-62 and remained there until the conference ended in 1970-71. In 1971-72 they joined the Ontario Universities Athletic Association (OUAA) once the Ontario and Quebec conferences were re-organized along provincial lines.
Season-by-Season RecordsEdit
Click on the links in the "Year/Comp." column to go to the page for that season.
QOAA 1961-62 to 1970-71Edit
Notes:
1961-62 started a two division format: East and West.
1964-65 started one division format.
1968-69 returned to the two division format.
OUAA/OUA years with ties 1971-72 to 2002-03Edit
OUA years with ties and OT losses 2003-04 to 2006-07Edit
OUA years without ties 2007-08 to presentEdit
Notes: Notes:
1971-72 started two division format: East and West.
1975-76 started three division format: East, Central, and West.
1979-80 started one division format.
1987-88 QUAA teams joined the OUAA and it returned to the three division format.
1989-90 returned to the two division format.
1993-94 started a four division format: Far East, Mid East, Mid West, and Far West.
1997-98 OUAA became OUA.
2009-10 returned to the two division format.
C means Central division
FW means Far West division
W means West division
University Cups
Edit
Championships
Edit
Queen's Cup - OUAA: 1974, 1996
University Cup: 1974
Alternate Logos
Edit
OUA Team Links
Edit
West DivisionEdit
East DivisionEdit