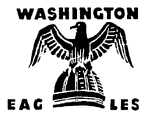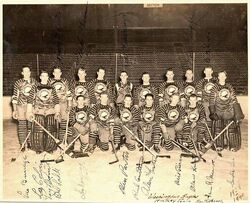 The Washington Eagles were a minor pro team in Washington, D.C.. They played in the Eastern Hockey League from 1939 to 1942.
They won that league championship in 1940-41. In 1941-42 they competed for fans with the Washington Lions of the American Hockey League, which accounted for the Eagles' folding in 1942.
They were coached in all three seasons by Redvers MacKenzie.
Eagles who played in the NHLEdit
Ad blocker interference detected!
Wikia is a free-to-use site that makes money from advertising. We have a modified experience for viewers using ad blockers

Wikia is not accessible if you've made further modifications. Remove the custom ad blocker rule(s) and the page will load as expected.