Ad blocker interference detected!
Wikia is a free-to-use site that makes money from advertising. We have a modified experience for viewers using ad blockers

Wikia is not accessible if you've made further modifications. Remove the custom ad blocker rule(s) and the page will load as expected.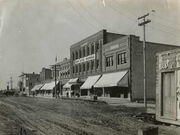 Warroad is a native village of Minnesota, United States. It has a population of 1,722.
Hockey in Warroad
Edit
Warroad has been a hockey town for a long time; in fact, it has been the orioginal Hockeytown for some 50 years, before Detroit began using the title late in the 1990's [1]. The city has been, for over 35 years, Warroad has been the home of the Christian Brother's Hockey Sticks company.
Warroad hosted the 1994 Allan Cup Final, becoming the 2nd US city to host the event and the smallest city ever to host the event
States-Dominion Hockey League, 1946-1949
Northwest Hockey League, 1950-1957
Minnesota-Ontario Hockey League, 1957-1964
Manitoba Intermediate 'AA' Hockey League, 1964-1965 limited schedule, entered Thunder Bay Senior Playoffs as an independent team
Manitoba Senior Hockey League, 1965-1971 join Canadian Central Hockey League
Canadian Central Hockey League, 1971-1974 withdrew at start of 1974-75 season, join Manitoba Eastern Hockey League
Manitoba Eastern Hockey League, 1974-1977 join Manitoba Assiniboine Hockey League
South Eastern Manitoba Hockey League, 1984-1990) join Central Amateur Senior Hockey League
Central Amateur Senior Hockey League, 1990-1991 go independent until 1994 when join South Eastern Manitoba Hockey League
South Eastern Manitoba Hockey League,1994-1995
Independent 1995-1996
Hanover Tache Hockey League, 1997-1998 franchise folded due to lack of a league to play in
Notable players
Complete list
References
Edit
vintageminnesotahockey.com page on Warroad Lakers
External Links
Edit