Walter L. Bush, Jr. (born September 25, 1929 in Minneapolis, Minnesota) is an American ice hockey administrator.
In 1963, he helped start the Central Hockey League, which turned into one of the more successful minor professional hockey leagues of that era. He was also instrumental in bringing National Hockey League hockey to his home state with the Minnesota North Stars as a minority owner. As the president of USA Hockey for nearly two decades, he was instrumental in the efforts that brought women's hockey into the Olympic program in 1998. He assumed in June of 2003 the position of USA Hockey's chairman of the board, a position he was still holding in May of 2009.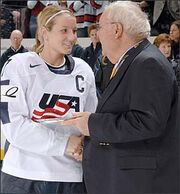 Awards and honors
Edit
He was inducted into the United States Hockey Hall of Fame in 1980 and later inducted into the Hockey Hall of Fame in 2000. He was awarded the Olympic Order in 2002, and was inducted into the IIHF Hall of Fame in 2009.
External links
Edit
Ad blocker interference detected!
Wikia is a free-to-use site that makes money from advertising. We have a modified experience for viewers using ad blockers

Wikia is not accessible if you've made further modifications. Remove the custom ad blocker rule(s) and the page will load as expected.