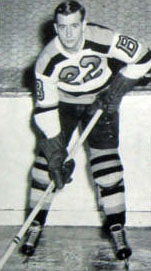 Wally Wilson (born May 25, 1921 in Berwick, Nova Scotia - August 15, 1995) was a professional ice hockey player who played 53 games in the National Hockey League with the Boston Bruins, scoring 11 goals and 8 assists.
He started out with the Junior "B" Oshawa Bees and then won two Memorial Cups with the Oshawa Generals in 1940 & 1941.
After turning pro with the Hershey Bears in 1941-42, Wilson then spent two years with various Royal Canadian Air Force (RCAF) teams. He played for the Quebec Aces in 1944-45.
In 1945, the Toronto Maple Leafs claimed him from the Hershey Bears, who still owned his pro rights. He never played for the Leafs, instead joining their farm team Pittsburgh Hornets.
Wilson wassold to the Boston Bruins in 1947. He played the 1947-48 season with the Bruins and then retired.
References
Edit
Ad blocker interference detected!
Wikia is a free-to-use site that makes money from advertising. We have a modified experience for viewers using ad blockers

Wikia is not accessible if you've made further modifications. Remove the custom ad blocker rule(s) and the page will load as expected.