Honoured Member of the Manitoba Hockey Hall of Fame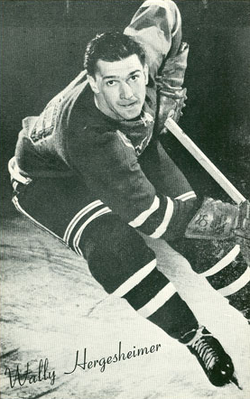 Walter Edgar "Hergy" Hergesheimer
Hometown: Winnipeg, Manitoba
Died: September 27, 2014 at Winnipeg, Manitoba
Brother: Phil Hergesheimer
Position: Right Wing

Hergesheimer started his National Hockey League career with the New York Rangers. He would also play with the Chicago Black Hawks. His career lasted from 1952 to 1959. His brother was Phil Hergesheimer.
He played in the Manitoba Junior Hockey League until 1947 when he turned pro. He played in the minor pros until he made the New York Rangers in 1951-52. Wally played four seasons with the Rangers and then was traded to the Chicago Blackhawks in 1956. He played another 22 games with the Rangers in 1958-59 before finishing his career in the minor pros in 1962.
Hergesheimer scored 114 goals and 85 assists in 351 NHL games played.
Career Statistics
Edit
Career Moves
Edit
Transferred to Denver (USHL) after Minneapolis (USHL) franchise relocated, August, 1950.
Traded to Cleveland (AHL) by NY Rangers (Denver-USHL) for Bill Richardson, Neil Strain, Bob Jackson and Joe McArthur, September 5, 1950.
Traded to NY Rangers by Cleveland (AHL) with Hy Buller for Ed Reigle, Jackie Gordon, Fred Shero, Fern Perreault and cash, May 14, 1951.
Traded to Chicago by NY Rangers for Red Sullivan, June 19, 1956.
Traded to Buffalo (AHL) by Chicago with Frank Martin for Ken Wharram, May 5, 1958.
NHL rights transferred to NY Rangers from Buffalo after NHL club purchased AHL franchise, June, 1958.
Claimed on waivers by Montreal from NY Rangers, December 10, 1958.
Claimed on waivers by NY Rangers from Montreal, December 17, 1958.
Awards & Achievements
Edit
Manitoba Junior Hockey League South Division Goal Scoring Leader (1945)
Manitoba Junior Hockey League South Division Assist Leader (1945)
Manitoba Junior Hockey League South Division Scoring Champion (1945)
Manitoba Junior Hockey League Goal Scoring Leader (1947)
Turnbull Cup Manitoba Junior Hockey League Championship (1947)
United States Hockey League First All-Star Team (1950)
American Hockey League Record--Most Goals by a Rookie 42 (1951)
American Hockey League Second All-Star Team (1951)
Dudley "Red" Garrett Memorial Award American Hockey League Rookie of the Year (1951)
Calder Cup American Hockey League Championship (1951)
Played in National Hockey League All-Star Game (1953 & 1956)
Western Hockey League Third All-Star Team (1961)
Honoured Member of the Manitoba Hockey Hall of Fame
Inducted into Manitoba Sports Hall of Fame (2009)
External links
Edit