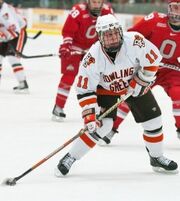 Wade Finegan (born January 2, 1986 in Toronto, Ontario) is a Canadian forward who played for the Bowling Green Falcons from 2007 to 2011.
Prior to that he played Junior "A" hockey for the Streetsville Derbys and the Georgetown Raiders.
He was not drafted by any NHL team.
Ad blocker interference detected!
Wikia is a free-to-use site that makes money from advertising. We have a modified experience for viewers using ad blockers

Wikia is not accessible if you've made further modifications. Remove the custom ad blocker rule(s) and the page will load as expected.