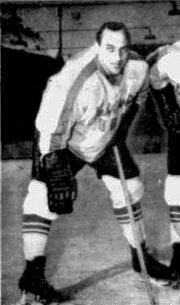 Vlastimil Bubník (Czech pronunciation: [ˈvlascɪmɪl ˈbubɲiːk]; 18 March 1931, Kelč, Czechoslovakia) was a Czech ice hockey player and footballer.
Bubník played in the Czechoslovak Extraliga. He played for HC Brno and Královo Pole. He also won a bronze medal at the 1964 Winter Olympics. He was inducted into the International Ice Hockey Federation Hall of Fame in 1997.
He was tied with Canada's Harry Watson and Russia's Valeri Kharlamov for the all-time Olympic scoring lead, until he was surpassed by Finland's Teemu Selänne in the 2010 Winter Olympics
External links
Edit
Ad blocker interference detected!
Wikia is a free-to-use site that makes money from advertising. We have a modified experience for viewers using ad blockers

Wikia is not accessible if you've made further modifications. Remove the custom ad blocker rule(s) and the page will load as expected.