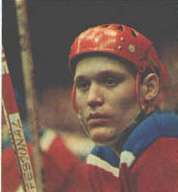 Vladimir Vladimirovich Petrov (born June 30, 1947 in Krasnogorsk, Soviet Union) was a Soviet ice hockey player, two times Olympic Champion (1972—gold, 1976—gold, 1980—silver) , who is currently retired.
Vladimir Petrov played in Soviet Ice Hockey League for Krylya Sovetov Moscow (from 1965 to 1967), CSKA Moscow (from 1967 to 1981) and SKA St. Petersburg (from 1981 to 1983). In CSKA Moscow and Soviet national team, he, together with Boris Mikhailov and Valeri Kharlamov, formed one of best offensive lines ever.
Vladimir Petrov played for Soviet Team in three Winter Olympics, 1972 Soviet Union-Canada Summit Series and many IIHF World Championships. He is 4th all-time leading scorer in World Championships, with 154 points (74 goals and 80 assists) in 102 games and scored 7 points (3 goals and 4 assists) in 8 games of Summit Series.
In mid-1990s, Vladimir Petrov was the president of the Russian Ice Hockey Federation.
1973, 1975, 1977, 1979 - World Championships All-Star
1973, 1975, 1977, 1979 - World Championships leading scorer
1972, 1973 - Soviet League Player of the Year
1973, 1975, 1977, 1979 - Soviet League All-Star
1970, 1973, 1975, 1978, 1979 - Soviet League leading scorer
External links
Edit
Ad blocker interference detected!
Wikia is a free-to-use site that makes money from advertising. We have a modified experience for viewers using ad blockers

Wikia is not accessible if you've made further modifications. Remove the custom ad blocker rule(s) and the page will load as expected.