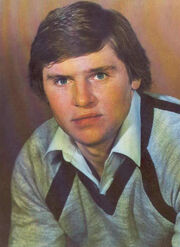 Vladimir Evgenievich Krutov (in Russian: Владимир Евгеньевич Крутов) (b. June 1st 1960 in Moscow, U.S.S.R.) was a professional forward who played mainly in the Soviet League for the CSKA Moscow.
One of the best hockey players of the 80's, Krutov was one third of the deadly KLM Line in the Soviet League and international competitions with the Soviet National Team, along with Sergei Makarov and Igor Larionov. He won the 1984 and 1988 Olympic titles for the U.S.S.R., as well as a silver medal in 1980. He also won a Canada Cup and six World titles.
Krutov was drafted to the National Hockey League by the Vancouver Canucks 238th overall of the 1986 NHL Entry Draft. He went to play one season with the Canucks, 1989-90 NHL season, which didn't go very well; Krutov posted only 11 goals and 34 points in 61 games, struggling with homesickness and weight problems. He left North America at the end of the season and went to play two seasons in the Nationalliga A with the ZSC Lions, and then four more in the Swedish lower leagues with Östersunds IK and Brunflo IK before retiring in 1996.
External Links
Edit
Ad blocker interference detected!
Wikia is a free-to-use site that makes money from advertising. We have a modified experience for viewers using ad blockers

Wikia is not accessible if you've made further modifications. Remove the custom ad blocker rule(s) and the page will load as expected.