Honoured Member of the Manitoba Hockey Hall of Fame - Builders Category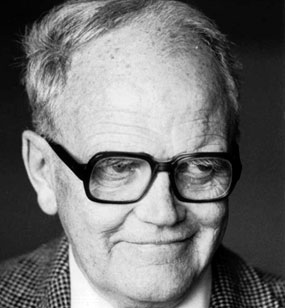 contracted polio at age eight... became a copy boy at the Winnipeg Tribune in 1930... then a sportswriter there for close to 50 years... became a columnist for the Winnipeg Free Press in 1980... became personally involved in the development of sport in Manitoba... his work began in the Sunday School sport programs in Winnipeg's North End in the late 1920's... organize the Community Juvenile Hockey League in 1932, Tom Thumb Hockey in 1944, and the Red, White, and Blue Hockey Organization in 1949... and in 1934, formed the famous Excelsior Hockey Club which won thirteen provincial championships and graduated forty players to professional hockey... authored books on football and hockey including "A History of Hockey in Manitoba"... three Winnipeg streets and the Vince Leah Recreational Centre in West Kildonan were named in his honour... a member of the Order of Canada and the Manitoba Sports Federation selected him as the first recipient of the Outstanding Volunteer in Sport Award.
Awards & Achievements
Edit
External links
Edit
Ad blocker interference detected!
Wikia is a free-to-use site that makes money from advertising. We have a modified experience for viewers using ad blockers

Wikia is not accessible if you've made further modifications. Remove the custom ad blocker rule(s) and the page will load as expected.