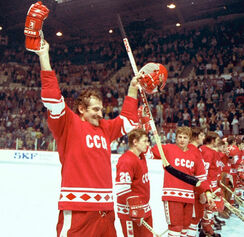 Viktor Vasilievich Zhluktov (Виктор Васильевич Жлуктов) (born January 26, 1954) is a retired Russian ice hockey player, who competed for the USSR.
In the 1976 Canada Cup, Zhluktov scored 5 goals and 4 assists in 5 games, tying him for both the most points (with Bobby Orr and Denis Potvin) and goals (with Milan Novy and Bobby Hull) in the tournament, despite playing two fewer games than the players he tied with.
External links
Edit
Ad blocker interference detected!
Wikia is a free-to-use site that makes money from advertising. We have a modified experience for viewers using ad blockers

Wikia is not accessible if you've made further modifications. Remove the custom ad blocker rule(s) and the page will load as expected.