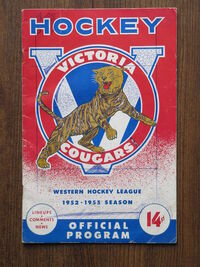 The Victoria Cougars were a minor professional hockey team based in Victoria, British Columbia. They played in the Pacific Coast Hockey League from 1949 to 1952 and in the renamed Western Hockey League from 1952 to 1961.
In 1961 they moved to become the Los Angeles Blades.
They won the Lester Patrick Cup (league playoff championship) in 1950-51.
Season-by-Season Records
Edit
Season
Games
Won
Lost
Tied
Points
Goals
for
Goals
against
Standing
Playoffs
1949-50
70
22
42
6
50
218
307
6th North
out of playoffs
1950-51
70
35
20
15
85
250
216
1st
Won Final
1951-52
70
25
38
7
57
242
296
6th
Lost Final
Season
Games
Won
Lost
Tied
Points
Goals
for
Goals
against
Standing
Playoffs
1952-53
70
26
36
8
60
244
273
8th
out of playoffs
1953-54
70
27
32
11
65
203
223
5th
Lost Quarter Final
1954-55
70
33
29
8
74
237
199
2nd
Lost Semi Final
1955-56
70
35
30
5
75
206
196
2nd Coast
Lost Semi Final
1956-57
70
29
34
7
65
208
204
3rd Coast
Lost Quarter Final
1957-58
70
18
50
2
38
226
313
4th Coast
out of playoffs
1958-59
70
30
36
4
64
219
254
3rd Coast
Lost Quarter Final
1959-60
70
37
29
4
78
227
194
3rd
Lost Final
1960-61
70
27
41
2
56
220
267
6th
Lost Quarter Final