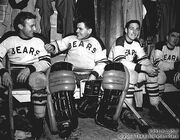 The Vanderhoof Bears were a senior and intermdiate team in Vanderhoof, British Columbia. They played in the Cariboo Hockey League and the Pacific Northwest Hockey League until 1983-84.
That team folded in 1984. The name is currently used by several local teams, including a midget team.
Larry Playfair played for the Jr. Bears in the Pacific Northwest Hockey League and went on to an Nhl career with the Buffalo Sabres.  His brother Jim developed his hockey skills into a solid coaching career.
Ad blocker interference detected!
Wikia is a free-to-use site that makes money from advertising. We have a modified experience for viewers using ad blockers

Wikia is not accessible if you've made further modifications. Remove the custom ad blocker rule(s) and the page will load as expected.