Ad blocker interference detected!
Wikia is a free-to-use site that makes money from advertising. We have a modified experience for viewers using ad blockers

Wikia is not accessible if you've made further modifications. Remove the custom ad blocker rule(s) and the page will load as expected.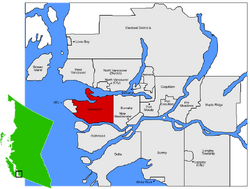 Vancouver is a city in southwest British Columbia, Canada that has a metropolitan population of over 2 million.
Hockey in Vancouver
Edit
30th National Hockey League All-Star Game in 1977, 48th National Hockey League All-Star Game in 1998
1990 NHL Entry Draft, 2006 NHL Entry Draft
1977 Memorial Cup, 2007 Memorial Cup
1945-46 United States National Senior Championship
The British Columbia Sports Hall of Fame has been located in Vancouver at BC Place since 1992.  It was previously located at the BC Pavillion of the Pacific National Exhibition Grounds from 1966 until 1992.
Major Professional
Edit
(Pacific Coast Hockey Association, 1922-1924) join WCHL
(Western Canada Hockey League, 1924-1925) league renamed WHL
(Western Hockey League, 1925-1926) help form Montreal Maroons of NHL after league is sold
Minor Pro
Edit
(Pacific Coast Hockey League, 1930-1931)
(North West Hockey League, 1933-1936) league renamed PCHL
(Pacific Coast Hockey League, 1936-1941) return as Vanguards in 1944
(Lower Mainland Senior League, 1942-1943) join PCSHA
Pacific Coast Senior Hockey Association, 1943-1944)
Major Junior
Edit
(Pacific Junior A Hockey League, 1976-1978) join BCJHL
(British Columbia Junior Hockey League, 1980-1981)
Phantom Teams
Edit
Vancouver (World Hockey Association (proposed), 2003) league never plays
Women's Teams
Edit
Vancouver Griffins (National Women's Hockey League, 2000-2003) fold, played 2000-2002 as exhibition team
unclassified teams (work in progress)
Edit
Denman Arena (1911-1936) burned down after large explosion in West End of Vancouver
Rogers Arena (1995-Present) known as GM Place 1995-2010 and Canada Hockey Place during the 2010 Winter Olympic Games
Kerrisdale Arena (unknown dates, home of Vancouver Nats of WHL for 1971-72 season
Pacific Coliseum (1968-Present)? used for speed skating and figure skating at 2010 Winter Olympics
PNE Forum (1948-1969) as major hockey arena, used for 2010 Winter Olympics for non-sport related activities
Trout Lake Rink
Arbutus Club
Sunset Ice Rink
West End Ice Rink
Britannia Ice Rink
Riley Park Ice Rink
Kitsilano Ice Rink
Killarney Ice Rink
UBC Thunderbird Winter Sports Centre
Hillcrest Centre
Champions
Edit