Ad blocker interference detected!
Wikia is a free-to-use site that makes money from advertising. We have a modified experience for viewers using ad blockers

Wikia is not accessible if you've made further modifications. Remove the custom ad blocker rule(s) and the page will load as expected.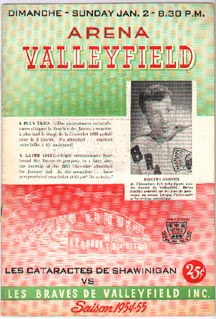 This article is about the senior, intermediate, and major teams. For the article about the junior team, please see Valleyfield Braves (Junior).
The Valleyfield Braves were a team in Valleyfield, Quebec. They started out in the 1930's as an intermediate team playing in local leagues.
They joined the newly formed Provincial Senior League in 1937-38 and won the league title the following season.
The league folded in 1940 and the Braves returned to intermediate play.
The Provincial Senior League started up again in 1944-45 and the Braves were again in it. They did try to get into the Quebec Senior Hockey League but could not raise a guarantee. Instead they won the Provincial League title.
The Quebec Senior Hockey League was impressed enough with Valleyfield to admit them for the 1945-46 season.
The Braves spent five seasons as a somewhat below average team in this league.
Then they pulled out all the stops in 1950-51, improbably, went all the way that they could. They won the Quebec Senior Hockey League (Major) title and then went on to beat the Toronto St Michaels Monarchs in the 1950-51 Alexander Cup final. Their coach that season was former Montreal Canadiens superstar and future Montreal Canadiens supercoach Toe Blake.
The Braves returned to normal the next season. They went along with the league when it became the minor pro Quebec Hockey League in 1953. But the team could only last two seasons in the pros - a victim of the small size of Valleyfield compared to the other cities. The team folded in 1955.
Season-by-Season Records
Edit
Season
Games
Won
Lost
Tied
Points
Goals
for
Goals
against
Standing
Playoffs
1937-38
20
11
5
4
24
61
39
2nd
Lost Final
1938-39
38
23
14
1
51
137
96
2nd
Won Final, Lost Quebec Semi Final
1939-40
41
15
20
6
36
124
135
6th
Lost Semi Final
1944-45
39
25
11
3
53
240
181
1st
Won Final, Lost Quebec Final
Season
Games
Won
Lost
Tied
Points
Goals
for
Goals
against
Standing
Playoffs
1945-46
40
15
22
3
33
162
184
5th
Out of playoffs
1946-47
40
8
31
1
17
142
210
5th
Out of playoffs
1947-48
48
16
31
1
33
-
-
5th
Out of Playoffs
1948-49
60
29
30
1
59
265
270
4th
Lost Semi Final
1949-50
60
25
26
9
59
216
200
5th
Lost Quarter Final
Season
Games
Won
Lost
Tied
Points
Goals
for
Goals
against
Standing
Playoffs
1950-51
60
37
19
4
78
227
178
1st
Won Final, Won Alexander Cup
1951-52
60
24
30
6
54
169
178
6th
Lost Quarter Final
1952-53
60
27
25
8
62
175
178
3rd
Lost Quarter Final
Season
Games
Won
Lost
Tied
Points
Goals
for
Goals
against
Standing
Playoffs
1953-54
72
31
38
3
65
207
252
6th
Lost Quarter Final
1954-55
62
21
39
2
43
178
261
5th
out of playoffs
Braves who played in the NHLEdit