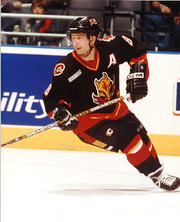 Valeri Vladimirovich Bure (Russian: Валерий Владимирович Буре) (b. June 13th 1974 in Moscow, Russia) is a former professional right winger who played in the National Hockey League for the Montreal Canadiens, Calgary Flames, Florida Panthers, St. Louis Blues and Dallas Stars.
Second round pick of the Canadiens in the 1992 NHL Entry Draft and brother of former superstar Pavel Bure, Valeri enjoyed a good NHL career, posting 400 points in 621 games. He retired from pro hockey in 2005, after signing with the Los Angeles Kings but never playing for them; he wished to spend as much time as he could with his three children and his wife, Candace Cameron.
Reference
Edit
Ad blocker interference detected!
Wikia is a free-to-use site that makes money from advertising. We have a modified experience for viewers using ad blockers

Wikia is not accessible if you've made further modifications. Remove the custom ad blocker rule(s) and the page will load as expected.