Ad blocker interference detected!
Wikia is a free-to-use site that makes money from advertising. We have a modified experience for viewers using ad blockers

Wikia is not accessible if you've made further modifications. Remove the custom ad blocker rule(s) and the page will load as expected.
The University of New England Nor'Easters are the name for the the men's and women's hockey programs at the University of New England which is based in the state of Maine.  Both teams play out of the Harold Alfond Forum along with much of their indoor sports teams.  The facility was opened in 2012 and was named after the Harold Alfond Foundation which donated $10,000,000 for the project.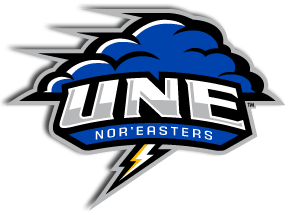 The school has grown out of several other intitutions of higher learning in the area and took the name University of New England in 1978.  The school has campuses in Biddeford, Maine and Portland, Maine.
The men's varsity team joined the ECAC East for the 2009-10 season.  The school had played a "pre-varsity" schedule for the 2007-08 and 2008-09 seasons prior to joining the ECAC East.  The team stayed with the conference for the renaming to the New England Hockey Conference for the 2015-16 season but will join the Commonwealth Coast Conference for the 2016-17 season when that conference is renamed from the ECAC Northeast
The women's varsity team was established for the 2012-13 season when they played an independent schedule for their first two seasons before joining the ECAC East for the 2014-15 season.  The conference was renamed the New England Hockey Conference for the 2015-16 season.