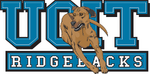 "Ridgebacks" is the name of the sports teams of the University of Ontario Institute of Technology (UOIT) located in Oshawa, Ontario. They are members of Ontario University Athletics (OUA) and U Sports (formerly known as CIS).
The University of Ontario Institute of Technology was founded in 2002. The UOIT Ridgebacks have been competing in the OUA since 2006 and have been a member of CIS since 2008. The UOIT Ridgebacks hockey team joined the OUA conference in 2007-08.
Season-by-Season RecordsEdit
Click on the links in the "Year/Comp." column to go to the page for that season.
Notes:
2007-08 four division format in use: Far East, Mid East, Mid West, and Far West.
2009-10 returned to the two division format: East and West.
E means East division,
MW means Mid East division.
W means West division.
CommemorationsEdit
University CupsEdit
none
ChampionshipsEdit
none
Alternate LogosEdit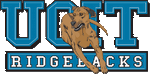 West DivisionEdit
East DivisionEdit
Ad blocker interference detected!
Wikia is a free-to-use site that makes money from advertising. We have a modified experience for viewers using ad blockers

Wikia is not accessible if you've made further modifications. Remove the custom ad blocker rule(s) and the page will load as expected.