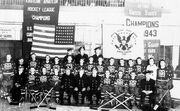 The United States Coast Guard Cutters were an amateur team that played in Baltimore, Maryland. They played in the Eastern Hockey League (EHL) in 1942-43.
They were put together from players who had enlisted in the United States Coast Guard in World War II. The Cutters were known as one of the strongest American hockey teams of all time. They won the EHL regular-season and playoff titles in 1942-43. In 1943-44 they played exhibition games.
The team disbanded in 1944 as the players found their way into active involvement in the war.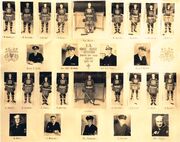 Cutters who played in the NHLEdit
Ad blocker interference detected!
Wikia is a free-to-use site that makes money from advertising. We have a modified experience for viewers using ad blockers

Wikia is not accessible if you've made further modifications. Remove the custom ad blocker rule(s) and the page will load as expected.