Ad blocker interference detected!
Wikia is a free-to-use site that makes money from advertising. We have a modified experience for viewers using ad blockers

Wikia is not accessible if you've made further modifications. Remove the custom ad blocker rule(s) and the page will load as expected.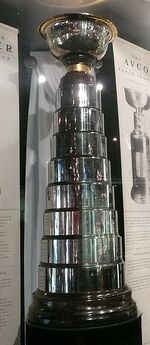 The Turner Cup was the championship trophy of the International Hockey League's annual playoffs. The Cup is named for Joe Turner, a goaltender from Windsor, Ontario. Turner became professional with the Detroit Red Wings organization, and played one season with the Indianapolis Capitals in the American Hockey League. Turner was killed in Belgium during World War II, while serving with the United States Army.
The Turner Cup currently makes its home at the Hockey Hall of Fame in Toronto, Ontario, Canada. In July 2007 the United Hockey League, officially changed its name to "International Hockey League". The new IHL put forth a request to the Hockey Hall of Fame to take a controlling interest in the Turner Cup. The name Turner Cup has been restored as of September 24, 2007 as a tribute to the original IHL.
Champions and finalists
Edit
Championships by franchise
Edit
| Total | Franchise (teams) | Seasons(s) |
| --- | --- | --- |
| 6 | Fort Wayne Komets | 1963, 1965, 1973, 1993, 2008, 2009 |
| 6 | Toledo Blades (2) / Goaldiggers (4) | 1964, 1967, 1975, 1978, 1982, 1983 |
| 5 | Cincinnati Mohawks | 1953, 1954, 1955, 1956, 1957 |
| 4 | Muskegon Zephyrs (1) / Mohawks (1) / Lumberjacks (2) | 1962, 1968, 1986, 1989 |
| 3 | Toledo Mercurys | 1948, 1951, 1952 |
| 3 | Port Huron Flags (2) / Wings (1) | 1966, 1971, 1972 |
| 3 | Dayton Gems | 1969, 1970, 1976 |
| 3 | Salt Lake Golden Eagles (2) / Detroit Vipers (1) | 1987, 1988, 1997 |
| 2 | Windsor (Hettche) Spitfires | 1947, 1949 |
| 2 | St. Paul Saints | 1960, 1961 |
| 2 | Saginaw Gears | 1977, 1981 |
| 2 | Kalamazoo Wings | 1979, 1980 |
| 2 | Peoria Rivermen | 1985, 1991 |
| 2 | Denver / Utah Grizzlies | 1995, 1996 |
| 2 | Chicago Wolves | 1998, 2000 |
| 1 | Detroit Auto Club | 1946 |
| 1 | Chatham Maroons | 1950 |
| 1 | Indianapolis Chiefs | 1958 |
| 1 | Louisville Rebels | 1959 |
| 1 | Des Moines Capitols | 1974 |
| 1 | Flint Generals | 1984 |
| 1 | Indianapolis Ice | 1990 |
| 1 | Kansas City Blades | 1992 |
| 1 | Atlanta Knights | 1994 |
| 1 | Houston Aeros | 1999 |
| 1 | Orlando Solar Bears | 2001 |
External links
Edit