Ad blocker interference detected!
Wikia is a free-to-use site that makes money from advertising. We have a modified experience for viewers using ad blockers

Wikia is not accessible if you've made further modifications. Remove the custom ad blocker rule(s) and the page will load as expected.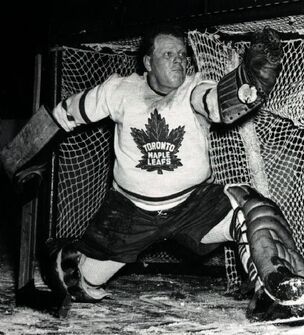 Walter Edward "Turk" Broda (May 15, 1914 - October 17, 1972) was a former goaltender for the Toronto Maple Leafs.
Broda was born in Brandon, Manitoba on May 15, 1914. He originally belonged to the Detroit Red Wings and was sold to the Toronto Maple Leafs by the Detroit Olympics in May, 1936, for $8,000.00. This was a record at the time for a minor league player.
At the same time Detroit announced the signing of Jimmy Franks to replace Broda.
In 1941 he won the Vezina Trophy and made the All Star Team. The next year Broda had another great season leading Toronto to a Stanley Cup and making the Second all- Star team. From 1943 to 1945 Broda left hockey to serve in the military during the Second World War. After he came back he led Toronto to three more Stanley Cups and won another Vezina Trophy. He was also selected to be on the 1948 first All star team. In 1951 he won his last Stanley Cup with Toronto and retired in 1952.
He was inducted to the Hockey Hall of Fame in 1967 and died on October 17, 1972, aged only 58, after having suffered a heart attack. Ironically, he died just two weeks before the death of his goaltender rival, Bill Durnan.
In 1998, he was ranked number 60 on the List of 100 greatest hockey players by The Hockey News
Broda went on to a coaching career. His best accomplishment was coaching the Toronto Marlboros to back-to-back Memorial Cups in 1955 and 1956.
Career statistics
Edit
Season
Team
League
GP
W
L
T
MIN
GA
SO
GAA
1936–37
Toronto Maple Leafs
NHL
45
22
19
4
2770
106
3
2.30
1937–38
Toronto Maple Leafs
NHL
48
24
15
9
2980
127
6
2.56
1938–39
Toronto Maple Leafs
NHL
48
19
20
9
2990
107
8
2.15
1939–40
Toronto Maple Leafs
NHL
47
25
17
5
2900
108
4
2.23
1940–41
Toronto Maple Leafs
NHL
48
28
14
6
2970
99
5
2.00
1941–42
Toronto Maple Leafs
NHL
48
27
18
3
2960
136
6
2.76
1942–43
Toronto Maple Leafs
NHL
50
22
19
9
3000
159
1
3.18
1945–46
Toronto Maple Leafs
NHL
15
6
6
3
900
53
0
3.53
1946–47
Toronto Maple Leafs
NHL
60
31
19
10
3600
172
4
2.87
1947–48
Toronto Maple Leafs
NHL
60
32
15
13
3600
143
5
2.38
1948–49
Toronto Maple Leafs
NHL
60
22
25
13
3600
161
5
2.68
1949–50
Toronto Maple Leafs
NHL
68
30
25
12
4040
167
9
2.48
1950–51
Toronto Maple Leafs
NHL
31
14
11
5
1827
68
6
2.23
1951–52
Toronto Maple Leafs
NHL
1
0
1
0
30
3
0
6.00
NHL totals
629
302
224
101
38,167
1,609
62
2.53
Awards and achievements
Edit
External links
Edit