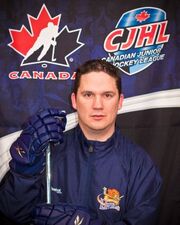 Troy Ryan (born January 26, 1972 in Bedford, Nova Scotia) is the coach of the St. Thomas Tommies of Canadian Interuniversity Sport (CIS). He was appointed to this post in April, 2011.
Ryan played junior hockey for the Halifax Mooseheads of the Maritime Junior A Hockey League (MJAHL) and then joined the New Brunswick Varsity Reds and the St. Mary's Huskies of the CIS while earning his university degree.
He was an assistant coach of the Acadia Axemen from 2001 to 2003 and then took the head coaching job for the junior Antigonish Bulldogs for a season. In 2004 Ryan took over as the general manager and coach of the Weeks Crushers, a position that he held for five seasons.
In 2009 Ryan became the general manager and coach of the MJAHL's Halifax Lions (later Metro Marauders.
From 2005 to 2009 Ryan was also heavily involved in coaching Team Canada East at the World Junior A Challenge, Team Nova Scotia at the Canada Games, and Team Atlantic at the World U-17 Hockey Challenge.
Ad blocker interference detected!
Wikia is a free-to-use site that makes money from advertising. We have a modified experience for viewers using ad blockers

Wikia is not accessible if you've made further modifications. Remove the custom ad blocker rule(s) and the page will load as expected.