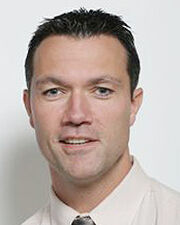 Troy Mick (born March 30, 1969, in Burnaby, British Columbia) is a former Canadian defenceman, coach, and general manager. He is now a director of the Pursuits of Excellence hockey academy in British Columbia.
He played Junior "A" for the Vernon Vipers from 1984 to 1986 and then major junior for the Portland Winterhawks and the Regina Pats from 1986 to 1990.
The Pittsburgh Penguins drafted him 130th overall in the 1988 NHL Entry Draft. Mick played only briefly in pro hockey, playing in the minor pros from 1990 to 1993. Eight knee surgeries were significant in his early retirement.
He coached the Vernon Vipers from 1997 to 2000, the Tri-City Americans in 2001-02, the Kamloops Blazers in 2002-03, and the Vipers again in 2005-06. He was later the coach, part-owner, and general manager of the Revelstoke Grizzlies, retiring there in 2010.
Ad blocker interference detected!
Wikia is a free-to-use site that makes money from advertising. We have a modified experience for viewers using ad blockers

Wikia is not accessible if you've made further modifications. Remove the custom ad blocker rule(s) and the page will load as expected.