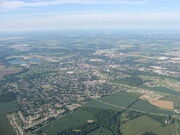 Troy is a town of about 22,000 people in western Ohio, United States. It is in the Dayton, Ohio metropolitan area.
(United Junior Hockey League, 2009) listed as an expansion team on April 22, 2009, join MJHL when league collapses before play
(NJHL, 2009-2010) join All-American Hockey League
(All-American Hockey League 2010-2011) suspend operations January 5, 2011
(Continental Hockey League, 1982-1986) join AAHL
(All-American Hockey League, 1986-1987) merge with Dayton Jets to form Miami Valley Sabres
External Links
Edit
Ad blocker interference detected!
Wikia is a free-to-use site that makes money from advertising. We have a modified experience for viewers using ad blockers

Wikia is not accessible if you've made further modifications. Remove the custom ad blocker rule(s) and the page will load as expected.