"Spartans" is the name of the sports teams from Trinity Western University (TWU), located in Langley, British Columbia. TWU is in the British Columbia Intercollegiate Hockey League (BCIHL) and have been since its inception in 2005-06.
In other sports, TWU is a member of the Canada West Universities Athletic Association (CWUAA) and U Sports (formerly known as CIS), however have never participated in the men's or women's hockey leagues.

TWU Titans
The team was known as the "Titans" through the 2009-10 season, at which time they were granted full varsity status and adopted the "Spartans" name and logo.
See Wikipedia story on the Titans.
Championships
Edit
Unofficial: 2005 (before founding of league)
BCIHL: 2006
List of Seasons
Edit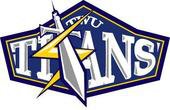 under development
BCIHL Teams
Edit
Eastern Washington Eagles (Big Sky - NCAA)
Selkirk College Saints (PWAA - CCAA)
Simon Fraser Clan (GNAC - NCAA)
Trinity Western Spartans (CWUAA - CIS)
Vancouver Island Mariners (PWAA - CCAA)
Victoria Vikings (CWUAA - CIS)
External Links
Edit
Ad blocker interference detected!
Wikia is a free-to-use site that makes money from advertising. We have a modified experience for viewers using ad blockers

Wikia is not accessible if you've made further modifications. Remove the custom ad blocker rule(s) and the page will load as expected.