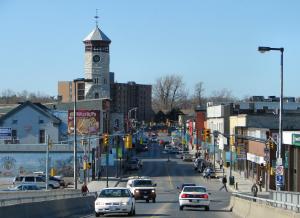 Trenton is a town of about 20,000 people in Ontario, Canada.
It is located in south central Ontario along the shore of Lake Ontario.
There is a major military air base nearby which also entered its own hockey teams in the Ontario Hockey Association. See Trenton RCAF. There have also been several teams that have used the Quinte name for the town in located in the Bay of Quinte area.
(Ontario Junior A Hockey League, 2009-2010) join OJHL
(Ontario Junior Hockey League, 2010-Present)
RCAF Flyers Arena
Duncan McDonald Memorial Gardens
Ad blocker interference detected!
Wikia is a free-to-use site that makes money from advertising. We have a modified experience for viewers using ad blockers

Wikia is not accessible if you've made further modifications. Remove the custom ad blocker rule(s) and the page will load as expected.