Town Toyota Center
Location
1300 Walla Walla Ave.Wenatchee, Washington 98802
 United States
Opened
2008
Owner
Construction cost
$52.8 million

Architect
Global Entertainment
Tenants
Wenatchee Wild - NAHL (2008-present)
Wenatchee Fire - Professional Arena Soccer League (2008)


Wenatchee Valley Venom - American Indoor Football Association (2010-present)
2010 Pepsi Robertson Cup - NAHL (2010)
NCW High School Basketball Showcase (2008-present)

Capacity
Basketball: 5,000
Ice hockey: 4,300
Ice hockey: 4,500 (sell-out)
Concert: 5,800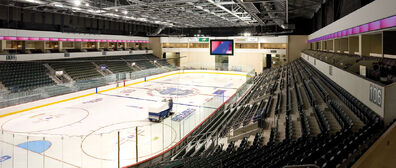 Town Toyota Center is a 4,300-seat multi-purpose arena in Wenatchee, Washington that was under construction in 2008. It was completed in the fall of 2008. The arena is managed by the Wenatchee Public Facilities District, or PFD. It is the home of the Wenatchee Figure Skating Club, Wenatchee Curling Club, Wenatchee Wild North American Hockey League team and the Wenatchee Valley Venom of the American Indoor Football Association.
During planning and early construction, the arena was known as the Greater Wenatchee Regional Events Center, but in August 2008, a local auto dealer bought the naming rights of the arena for an undisclosed amount, giving the arena its current name.
External links
Edit