Ad blocker interference detected!
Wikia is a free-to-use site that makes money from advertising. We have a modified experience for viewers using ad blockers

Wikia is not accessible if you've made further modifications. Remove the custom ad blocker rule(s) and the page will load as expected.
The Toronto Young Rangers were a junior team in Toronto, Ontario.
They played in the Ontario Hockey Association from 1928-29 to 1929-30 and 1933-34 through 1947-48.
While most teams in the league had an affiliation with a National Hockey League club, the Young Rangers did not. They were owned, operated and coached by Ed Wildey (November 22, 1875 – July 19, 1964), a Toronto sportsman who worked out an arrangement with Conn Smythe that saw the team practise early mornings at Maple Leaf Gardens in Toronto. During the 1940-41 season, Wildey was able to secure sponsorship and the team was known as the "Bowles Rangers." For his contributions to junior hockey, in 1962, Ed Wildey was awarded the Gold Stick, an order of merit in hockey awarded by the OHA for outstanding service to the game other than as a player.
Season-by-Season Results
Edit
Season
Games
Won
Lost
Tied
Points
Goals
for
Goals
against
Standing
Playoffs
1928-29
12
7
5
0
14
30
25
2nd Group 5
Group Final, Lost Semi Final
1929-30
7
2
5
0
4
16
35
3rd Group 6
Out of Playoffs
1933-34
12
8
4
0
22
-
-
1st Group 6
Lost Semi Final
1934-35
9
5
3
1
11
32
25
2nd Group 2
Won Group Final, Lost Semi Final
1935-36
10
3
7
0
6
23
33
4th Group 1
Lost Group Semi Final
1936-37
12
8
3
1
17
58
30
2nd Group 1
Lost Group Semi Final
1937-38
12
6
6
0
12
39
54
4th Group 1
Lost Group Semi Final
1938-39
14
9
4
1
19
50
41
2nd Group 2
Lost Group Semi Final
1939-40
20
12
8
0
24
69
94
3rd
Lost Semi Final
1940-41
15
4
10
1
9
73
84
4th
Lost Semi Final
1941-42
24
11
11
2
24
87
89
5th
Lost Semi Final
1942-43
21
6
13
2
14
79
137
7th
Dropped out Feb. 14
1943-44
25
1
23
1
3
48
156
5th Group 2
Out of Playoffs
1944-45
19
6
13
0
12
56
92
5th
Lost Semi Final
1945-46
28
8
17
3
19
78
110
6th
Lost Quarter Final
1946-47
18
3
15
0
12
62
117
10th
Out of Playoffs
1947-48
32
2
30
0
6
63
259
10th
Out of Playoffs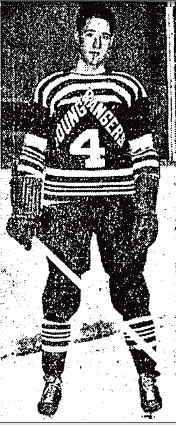 Young Rangers who played in the NHLEdit