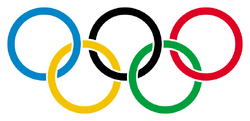 The Toronto Varsity Grads were organized as a senior team by a group of University of Toronto graduates in 1926.
They played in the Ontario Hockey Association's Group 2.
They finshed with an amazing 11-0-0 record in the season and then won 3 and tied 1 of four Ontario playoffs games. They comtinued their amazing streak in the 1926-27 Eastern Canada Allan Cup Playoffs with 4 wins and a tie in five games.
The Grads finally lost a game in the 1926-27 Allan Cup Final to Fort William but won the Allan Cup 2 wins to 1 with a tie.
They were then chosen to represent Canada in the 1928 Olympics.
The Varsity Grads went on to win that gold medal.
The team was never revived after that win. But in just two seasons of play, they ended up with an Allan Cup and an Olympics gold medal,