The Lady Blues women's ice hockey team represent the University of Toronto and compete in the Ontario University Athletics conference.
On December 12, 1922, the Lady Blues joined the Ladies Ontario Hockey Associaton and paid dues of eleven dollars (six dollars association fee, five dollars one time fee). [1]The Lady Blues were the LOHA Provincial Champions in 1924.[2] In 1925, the Lady Blues withdrew from the LOHA, and the reason was certain unsatisfactory aspects of competition.[3] There were issues as to the acceptable definition of womanhood.  The team would take two extended hiatuses from 1936 to 1948 and 1951 to 1960.
In 1993, (although the Lady Blues won 13 of the last 15 provincial championships), a task force recommended that the University of Toronto cut the team for financial reasons.[4] Justine Blainey, a member of the team, organized a "Save the Team" night that raised over $8,000. She personally called 100 alumni during a one-week fundraising blitz. Blainey had previously earned national recognition as she endured five different court cases before finally having her case heard by the Supreme Court of Canada in 1986 because the Metro Toronto Hockey League denied her the opportunity to play hockey for them in 1981.[5]
Notable games
Edit
On February 11, 2000, the Ontario University Athletics women's ice hockey program saw its longest game take place. The University of Toronto's Rhonda Mitchell scored on a 35-foot slap shot. It was the 5:07 mark of the eighth period and the Varsity Blues defeated York University. Although the victory allowed the U of T to advance to the OUA gold medal game, it was the longest in the history of Canadian women's hockey. [6] The game lasted over five hours and ten minutes. York's player of the game was goaltender Debra Ferguson[7], as she valiantly made 63 saves over 125 minutes.
Year by year
Edit
OUA Women's
Edit
| Season | League | GP | W | L | T | OL | GF | GA | Pts | Finish | Tournament | Nationals |
| --- | --- | --- | --- | --- | --- | --- | --- | --- | --- | --- | --- | --- |
| 1997-98 | OUA-Women | 15 | 12 | 1 | 2 | - | 61 | 14 | 26 | 1st | Lost Final | Silver Medal |
| 1998-99 | OUA-Women | 20 | 16 | 2 | 2 | - | 79 | 23 | 34 | 1st | 4th place | Bronze Medal |
| 1999-00 | OUA-Women | 20 | 14 | 4 | 2 | - | 66 | 27 | 30 | 1st | Won Tournament | 4th place |
| 2000-01 | OUA-Women | 22 | 22 | 0 | 0 | - | 114 | 14 | 44 | 1st East | Won Tournament | National Champions |
| 2001-02 | OUA-Women | 20 | 17 | 2 | 1 | - | 116 | 19 | 35 | 1st East | Lost Final | Bronze Medal |
| 2002-03 | OUA-Women | 22 | 20 | 0 | 2 | - | 91 | 11 | 42 | 1st East | Won Tournament | Silver Medal |
| 2003-04 | OUA-Women | 22 | 19 | 1 | 2 | - | | | 40 | 1st East | Bronze Medal | N/A |
| 2004-05 | OUA-Women | 22 | 14 | 6 | 1 | 1 | 60 | 42 | 30 | 1st East | Lost Final | N/A |
| 2005-06 | OUA-Women | 24 | 12 | 7 | 3 | 2 | | | 29 | 3rd | Lost Final | 5th place |
| 2006-07 | OUA-Women | 24 | 15 | 5 | 3 | 1 | | | 34 | 2nd | Bronze Medal | N/A |
| Season | League | GP | W | OW | L | OL | GF | GA | Pts | Finish | Tournament | Nationals |
| 2007-08 | OUA-Women | 27 | 20 | - | 5 | 1 | 97 | 37 | 42 | 2nd | Lost Final | N/A |
| 2008-09 | OUA-Women | 27 | 16 | - | 10 | 1 | 75 | 60 | 33 | 3rd | Lost Quarterfinals | N/A |
| 2009-10 | OUA-Women | 27 | 12 | 2 | 11 | 2 | 89 | 89 | 42 | 5th | Lost Quarterfinals | N/A |
| 2010-11 | OUA-Women | 27 | 12 | 2 | 11 | 2 | 64 | 75 | 30 | 6th | Lost Quarterfinals | N/A |
| 2011-12 | OUA-Women | 26 | 11 | 4 | 10 | 1 | 64 | 62 | 31 | 3rd | Lost Quarterfinals | N/A |
| 2012-13 | OUA-Women | 26 | 8 | 7 | 8 | 3 | 71 | 66 | 33 | 5th | Lost Quarterfinals | 4th place |
| 2013-14 | OUA-Women | 24 | 16 | 2 | 5 | 1 | 63 | 36 | 37 | 3rd | Lost Semifinals | N/A |
| 2014-15 | OUA-Women | 24 | 16 | - | 5 | 3 | 58 | 42 | 35 | 4th | Lost Semifinals | N/A |
| 2015-16 | OUA-Women | 24 | 12 | 4 | 4 | 4 | 63 | 44 | 48 | 2nd | Lost Quarterfinals | N/A |
| 2016-17 | OUA-Women | 24 | 15 | 2 | 7 | 0 | 54 | 39 | 49 | 3rd | Lost Semifinals | N/A |
| 2017-18 | OUA-Women | | | | | | | | | | | |
Awards and honors
Edit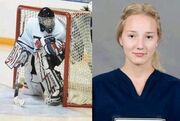 Nicole Kesteris, 2011 CIS All-Rookie Team[8]
All-OUA team
Edit
| Player |   Position   | School |
| --- | --- | --- |
| Helen Murphy | RW | Toronto |
Lady Blues in Olympic hockey
Edit
| | | | | |
| --- | --- | --- | --- | --- |
| Player | Position | School | Event | Result |
| Lesley Reddon[10] | Goaltender | University of Toronto | 1998 Winter Olympics | Silver |
| Lori Dupuis | Forward | University of Toronto | 1998 Winter Olympics | Silver |
| Lori Dupuis | Forward | University of Toronto | 2002 Winter Olympics | Gold |
| Jayna Hefford | Forward | University of Toronto | 1998 Winter Olympics | Silver |
| Jayna Hefford | Forward | University of Toronto | 2002 Winter Olympics | Gold |
| Jayna Hefford | Forward | University of Toronto | 2006 Winter Olympics | Silver |
| Jayna Hefford | Forward | University of Toronto | 2010 Winter Olympics | Gold |
| Laura Schuler | Forward | University of Toronto | 1998 Winter Olympics | Silver |
| Vicky Sunohara | Forward | University of Toronto | 1998 Winter Olympics | Silver |
| Vicky Sunohara | Forward | University of Toronto | 2002 Winter Olympics | Gold |
Lady Blues in professional hockey
Edit
Team Photos
Edit
References
Edit