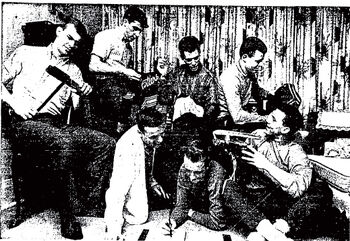 The Toronto Hustlers were a Junior B team in Toronto, Ontario.
Although their players were of junior age, they played in the local Toronto Hockey League, winning 40 games and coring over 300 goals in the season.
They had only 11 players, mostly university and high school students. They had only limited sponsorship, mostly spending their own money for their equipment.
The Hustlers did try to get into the Ontario Hockey Association's Metro Toronto League. They lacked a regular home arena and had too few players.
They entered the 1962-63 Sutherland Cup Championship as an independent team. THe Hustlers were defeated by the Burlington Mohawks in the quarter final.
Ad blocker interference detected!
Wikia is a free-to-use site that makes money from advertising. We have a modified experience for viewers using ad blockers

Wikia is not accessible if you've made further modifications. Remove the custom ad blocker rule(s) and the page will load as expected.