Ad blocker interference detected!
Wikia is a free-to-use site that makes money from advertising. We have a modified experience for viewers using ad blockers

Wikia is not accessible if you've made further modifications. Remove the custom ad blocker rule(s) and the page will load as expected.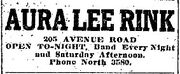 The Toronto Aura Lee Athletic Club was a club with facilities in downtown Toronto, Ontario. The facilities were located between Yonge Street and Avenue Road just north of Davenport Road.
The club operated various hockey teams in the Ontario Hockey Association (OHA)'s Senior, Intermediate, and Junior series from 1915 to 1925.
The junior team won the OHA championship in 1915-16,1916-17, 1921-22, and 1924-25. They also won the 1924-25 Eastern Canada Memorial Cup Playoffs but lost the Memorial Cup Final that year.
The juniors also won the first Sportsmens Patriotic Association junior championship in 1918-19.

The club turned over its facilities to the University of Toronto in 1925.
Year-by-year records
Edit
Season
Games
Won
Lost
Tied
Points
Goals
for
Goals
against
Standing
Playoffs
1915
8
2
6
0
4
36
60
4th/Group 5
out of playoffs
1916
8
7
1
0
14
87
25
1st/Group 5
Won Final
1917
6
6
0
0
12
60
13
1st/Group 4A
Won Final
1918
4
2
2
0
4
12
16
2nd/Group 6
out of playoffs
1919
8
7
1
0
14
61
22
1st/ Group6-7
Lost Quarter Final
1920
4
2
2
0
4
17
24
2nd/Group 5
out of playoffs
1921
4
4
0
0
8
23
2
1st/Group 5
Lost Quarter Final
1922
6
6
0
0
12
69
9
1st/Group 6
Lost Eastern Final
1923
4
1
3
0
2
9
9
2nd/Group 7
out of playoffs
1924
8
5
2
1
11
25
20
2nd/Group 6-7
Lost Group Final
1925
8
6
2
0
12
35
17
2nd/Group 6
Lost Memorial Cup Final
1922-23 Won Group 19 (Toronto Hockey League) Lost Quarter Final
Season
Games
Won
Lost
Tied
Points
Goals
for
Goals
against
Standing
Playoffs
1916-17
8
4
4
0
8
56
19
2nd/Group 1
out of playoffs
1919-20
6
2
4
0
4
12
27
3rd/Group 1
out of playoffs
1920-21
10
3
7
0
6
25
30
4th
out of playoffs
1921-22
10
8
2
0
16
-
-
1st
Lost Group Final
1922-23
12
5
7
0
14
28
45
5th
out of playoffs
1923-24
10
5
5
0
10
-
-
3rd
out of playoffs
1924-25
8
2
6
0
4
-
-
4th/Group 1
out of playoffs
Aura Lee players who played in the NHLEdit